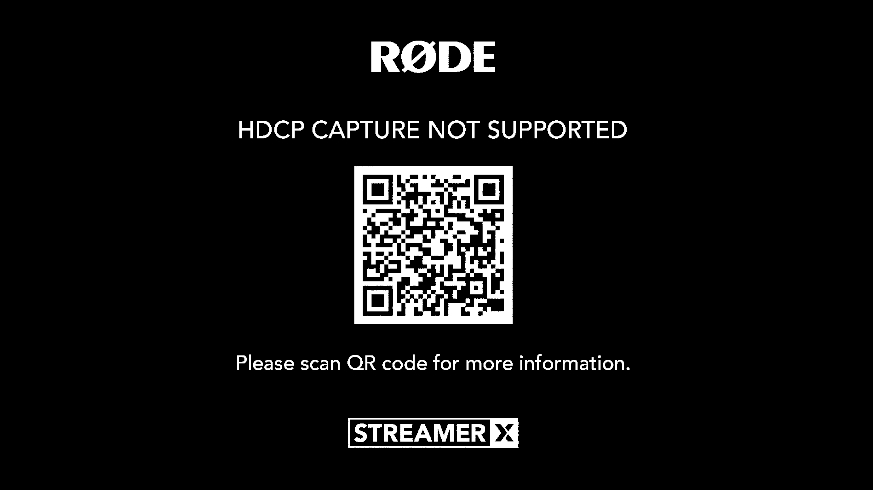 If you see the "HDCP Capture Not Supported" message, the device you're attempting to record has High-bandwidth Digital Content Protection enabled. This is a function to protect against the piracy of copyrighted material. Please consult your video game console, computer or other device's manual for more information on HDCP.
For Mac Computers
When connecting a Mac computer to the HDMI input of the Streamer X, it's important to note that Apple enforces HDCP protection measures, even in cases where copyrighted material is not being played. If you encounter a message indicating this protection, it suggests that the signal sent to the Streamer X is functioning correctly and as intended, but the connected Mac computer is responsible for triggering the message and applying this protection.
There are potential workarounds available, such as using HDMI splitters, which can bypass HDCP protection. However, we do not have any specific recommendations for HDMI splitters.
It's worth mentioning that this issue is generally specific to Apple devices, as the protection is not typically applied system-wide by other computer manufacturers. The passthrough feature, which usually involves connecting a screen, does not typically encounter this problem as it allows HDCP-protected content to be displayed. It's essential to understand that this behavior, related to HDCP, aligns with the Streamer X's compliance with the HDMI standard.
For PlayStation 4
If you're using a PlayStation 4 with the Streamer X, you can disable HDCP in the settings of the PlayStation 4 using the Steps below:
Navigate to the main menu on the PS4.
Scroll to the right and select "Settings".
In the Settings menu, scroll down and select "System" to access system-related settings.
Within the System settings, locate and choose the "Enable HDCP" option. 
Uncheck the box for "Enable HDCP".
Please note: Disabling HDCP will affect some games and apps on the PlayStation 4 console that require HDCP to be enabled.
Disabling HDCP allows you to capture gameplay footage using the Streamer X