Zoom and similar video conferencing programs often come with automatic filters and signal processing that might inadvertently affect the audio signal from the RØDECaster Pro II/ Duo. You might also have feedback from meeting recipients that they also cannot hear the Smartpad audio when pressed. 
To optimize the audio quality, it's recommended that users consider disabling or adjusting settings related to background noise and filtering, ideally setting them to 'Low' or the minimum level.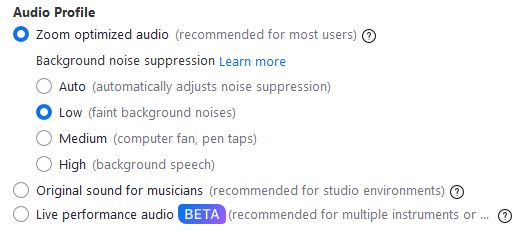 By doing so, users can ensure that the RØDECaster Pro II/ Duo signal is transmitted without unnecessary interference or alterations, allowing for a cleaner and more accurate representation of the audio during online meetings or recordings.